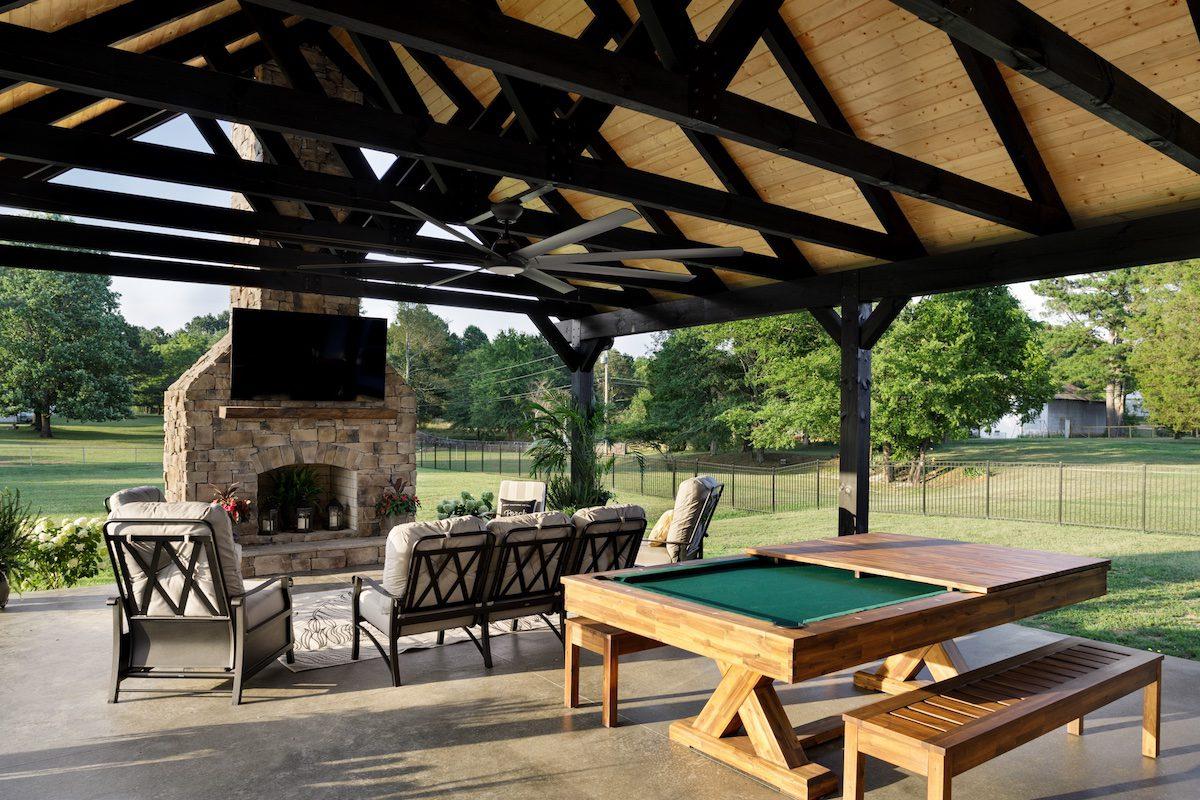 Custom Outdoor Living Structures
Let us help you design, manufacture and build your completely custom outdoor living structure. This could be an addition to your existing home, a free-standing structure for your lawn or garden or a structure designed to match a new log or timber frame home. We handle everything from start to finish. Call us today to discuss what you have in mind, and make an appointment to come see the one we built. Read our story below.
Outdoor Living in a Timber Frame Addition: Unveiling the Ultimate Outdoor Oasis: The Crumleys' Timber Frame Pavilion
Nestled amidst the picturesque landscapes of North Alabama, the Crumley residence stands as a testament to the couple's ingenuity and passion for crafting an idyllic outdoor living space. Dewayne and Sherry Crumley took on an ambitious project, and the result is a stunning 25-foot by 30-foot outdoor living pavilion that has become the ultimate outdoor oasis. Take a closer look at this remarkable timber frame project idea and the transformation from a simple concept to a captivating reality.
From Idea to Reality
The journey began with a dream – a dream of an outdoor oasis where family and friends could gather, celebrate and bask in the beauty of nature. Dewayne Crumley, owner of Serenity Log Homes, an Honest Abe Log Homes Independent Dealership, called on his expertise in design and construction to envision a timber frame pavilion that would seamlessly blend with his and Sherry's existing traditional stick-built home. The pavilion's timber frame construction, using Honest Abe Log Homes' meticulously milled timbers, became the backbone of the entire project.
The Beauty of Timber Frame Construction
The heart of this outdoor living space lies in its timber frame construction, using meticulously milled timbers from Honest Abe Log Homes. Douglas fir, revered for its strength and natural beauty, takes center stage as the support timbers, each measuring an impressive 8" by 8". The rafters, an essential component for the pavilion's structural integrity, were crafted from 6" by 8" Douglas fir timbers. The combination of these sturdy materials provides both functionality and a timeless aesthetic.
A Ceiling that Soars
The Douglas fir rafters soar gracefully overhead, supporting a vaulted ceiling made of 2″ by 6″ tongue and groove pine. Topped with a sleek dark gray steel roof, it offers protection against the elements while adding an elegant contrast to the natural timbers. The result is an enchanting space that harmoniously combines rustic charm and modern comfort.
Where Warmth Meets Elegance
The wood-burning fireplace constructed of real stone commands attention as the focal point of the pavilion. Its sturdy presence encourages cozy gatherings during chilly evenings, making it the perfect spot to share stories, laughter and warmth with loved ones.
Thoughtful Furnishings and Décor
Inside the pavilion, guests are met with a tastefully furnished space designed for both relaxation and entertainment. Accompanied by teak side tables, metal chairs adorn the seating area surrounding the fireplace, their comfortable removable cushions beckoning guests to sink in and stay awhile. A versatile 4' x 8' pool table converts to a dining table with matching bench seating, providing endless options for hosting various gatherings.
A Culinary Haven
For those who savor the art of outdoor cooking, the Crumleys' pavilion presents a state-of-the-art outdoor kitchen. Clad in stainless steel, the kitchen houses a stove, refrigerator, sink and fixtures, it is a haven for any aspiring chef or an experienced one like Dewayne, who designed the stone covered bar with tall seating so he can engage with guests while cooking. A Big Green Egg grill takes center stage, ready to serve up delectable grilled delicacies.
Technology and Entertainment
Incorporating the latest technology, the pavilion features a 75-inch television mounted over the fireplace, perfect for watching sports games, movies or hosting educational seminars. A second 55-inch television in the kitchen area allows for viewing from the kitchen's bar. The 10′ ceiling fan is controlled by a phone app, ensuring just the right amount of circulation for any weather. The pavilion truly embodies modern-day living in a natural setting.
A Landscaped Paradise
To complement the pavilion, a professional landscaping company was employed to design the surrounding lawn. Natural stone gracefully outlines the flower and shrub beds, blending the pavilion with the beauty of the outdoors.
Beyond Family Gatherings
The Crumleys' pavilion is more than just their personal oasis. It's a space that welcomes guests with open arms. The Crumleys' family, including their son and grandchildren, savor invitations to enjoy the pavilion. As the pastor of a local church, Dewayne hosts special gatherings and moments of celebration for his church family here, fostering a sense of togetherness and warmth. Dewayne also utilizes the space for hosting educational seminars on log and timber frame design, manufacturing and construction, drawing on his expertise as a member of the Honest Abe Log Homes sales team.
Creating Custom Outdoor Paradises for Others
Inspired by the success of their pavilion, the Crumleys are now prepared to share their expertise with others. Dewayne is available to design and construct custom pavilions and outdoor living spaces for clients in North Alabama and beyond. The passion that fueled the creation of their own oasis is now the driving force behind making others' outdoor dreams come true.
A Pavilion to Remember
In the heart of North Alabama the Crumleys have unveiled an outdoor living space that leaves an indelible mark on the minds of all who experience it. Their pavilion is more than just a physical structure – it is a testament to the power of dreams, dedication and the artistry of design. It's a place where warmth meets elegance, where technology meets nature and where memories are created for a lifetime.
An Open Invitation
Eager to see this masterpiece in person? The Crumleys' outdoor living space is truly a sight to behold, a dream realized and an invitation to savor the beauty of the great outdoors in comfort and style.The Crumleys graciously offer private tours of their stunning pavilion. To witness the perfect fusion of timber frame construction, modern amenities and natural beauty, simply schedule an appointment and prepare to be captivated.
Story by Claudia Johnson ©2023, Serenity Log Homes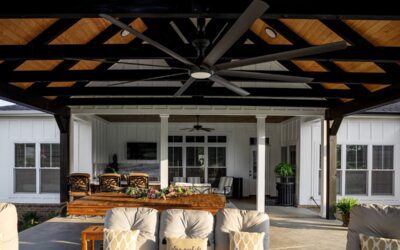 The porch is an important element of a home's design and functionality, but it's also part of American culture. On social media porches have been honored with their own hashtag – #porchsitting. Dan Stevens, who played Matthew Crawley on "Downton Abbey," made a very...
read more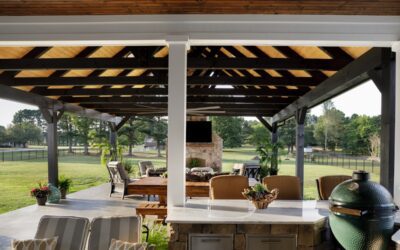 The concept of open air dining is brought to log and timber home living in a variety of designs.  The traditional American picnic has met its match with today's concepts of dining in the fresh air. Gone are the days of a cooler filled with Tupperware encased foods to...
read more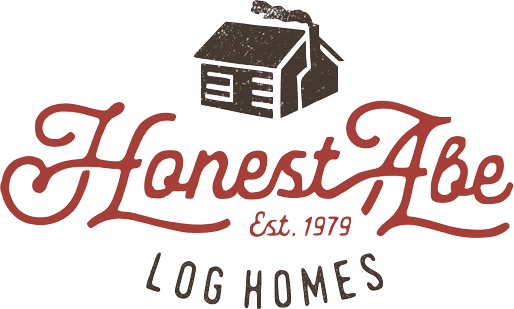 Our log and timber frame structures are manufactured in the U.S.A. and have been since 1979! We're proud to be an Independent Dealer for Honest Abe Log Homes. We serve the Alabama counties of Lauderdale, Limestone, Madison, Colbert, Morgan, Franklin and Lawrence as well as the Mississippi counties of Tishomingo, Alcorn, Prentiss and Itawamba.