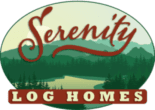 Photos of Honest Abe Homes
Serenity Log Homes can help you create your forever home just like these customers did!
View Photos of Homes Designed and Manufactured by Honest Abe
In Honest Abe's decades of designing and manufacturing log and timber frame homes, the company has served more than 7,000 customers. Below you'll find examples of homes in a variety of styles, designs and sizes. You'll also be linked to floor plans for the homes you are viewing as well as stories, videos or other information about the homes featured. Most customers choose a plan and then customize it with modifications they need and want. That's not a problem. The Honest Abe Design Department works with customers until they are satisfied. Serenity Log Homes helps facilitate the design phase of the home while working with a client to ensure that other important facets of building a log or timber frame home are being addressed.
If you see a home you like or even elements from different homes pictured here, let us know at Serenity. What you imagine is very likely possible.
You're also invited to experience some of Honest Abe's homes via video and drone tour. Click HERE for the Tours.